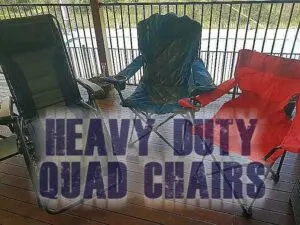 When it comes to buying heavy duty quad chairs it's important that you don't just buy the first one you see. Or to make matters worse, the cheapest quad chair on the market.
If you're looking for a solid, stable and robust quad chair, chances are it needs to be able to handle some heavy weights. Whether that be form the combined weight of parent and child or simply a heavier person. Or if you're like me and are big boned with young kids that sit on your lap, you're going to need a quad chair with a substantial amount of reinforcements to handle the weight.
Solid & Stable Quad Chair Options
Being a fairly big and heavy person myself has not deterred me from doing the things I love most. Camping in particular is my families favorite outdoor activity by a long shot. However we love to attend day long events and festivals as well.
So investing in a few heavy duty quad chairs over the years has certainly been a wise decision. Much like any other product out there, not all quad chairs are built equal.
Nor are they built so that one size fits all. In fact, quad or camping chairs come with weight ratings. These weight ratings are designed to give you a better idea on the strength and capabilities to handle heavy duty loads. Yes, I do refer to myself as heavy duty!.
So over the years I have tried and tested quite a few so called heavy duty quad chairs. Sadly to say many of them simply don't live up to expectations. But don't let this completely deter you because something that may not fit for me may turn out to be ideal for you. After all, we all have unique bodies and planned uses for such a quad chair.
So with that said, listed below are links to some of the best quad chairs suitable to a vast variety of people with heavy duty ratings to hold bigger and heavier people.
Top 4 Best Heavy Duty Quad Chairs
From the list above of 5 resources to buy quad chairs that are heavy duty, stable and reliable here are my top 4 choices. But without a doubt, my personally recommendation is the 800 pound capacity Alps Mountaineering King Kong quad chair.
If these options don't suit your needs or your price point, be sure to check the above links to discover more quad chair options. All these chairs are on amazon and may come in different colors.
What To Consider When Buying A Quad Chair
It can be unbelievable when you compare prices on quad chairs. Prices can range from $10 all the way up to $300. So what makes a more expensive quad chair different from a cheap $10 chair you can pick up from just about any department store.
Well this is what you about to find out. Sure branding comes into the price tag to a degree and this is something you should be careful of when buying. But the most important features to consider are what really matter when you want a heavy duty quad chair.
Weight Capacity
If the purpose of buying a heavy duty quad chair is to be able to handle your body weight, then the first port of call is to check the weight capacity. If the chair neglects to mention a weight rating, discard that option. Chances are it is not stated because its a standard chair which typically has a maximum rating of 220lbs to 250lbs capacity.
To be rated heavy duty, the quad chair should be able to handle heavier loads. There's absolutely no point in spending money on a heavy duty chair if it breaks beneath you with minimal force.
Solid & Secure Frame
The weight capacity is generally a derivative of the chairs design and frame integrity. But when you don't know a thing about quad chairs it can be difficult to determine the differences between a strong frame and a weak frame.
The first thing to consider is the support braces. Most standard camping chairs will have braces for the 2 side legs. For a heavy person its critical the chair has the 'X' braces on each of the 4 sides of the chair. This provides the stability and support needed to hold heavy weights.
Thick Reinforced Frame
Even when all sides of the frame are well supported, you can still buy a dodgy quad chair claiming to be heavy duty. What you need to look for is a thicker looking frame design. When you compare a standard chair next to a heavy duty rated one you instantly notice how much thicker the steel is.
Look for reinforcement bars beneath the seat around the frame line. The extra reinforcement bars along with the thicker X braces will mean the chair has a better chance of surviving over 250 pounds of weight.
Quad Chair Material
Once you have a chair with what seems like a heavy duty frame intact, have a look at the quality of the material. Quad chairs can come in a vast variety of materials from mesh to canvas to plastic. Regardless of the material, its important to determine the quality of materials used.
For zero gravity chairs and reclining chairs that use bungee cord similar to camping cots, the connecting loop holes need to be reinforced with a small metal or plastic ring. Otherwise over time the bungee cord will eventually tear the fabric and the chairs no longer usable.
Quad Chair Accessories
Heavy duty quad chairs are considerably heavier than standard camping chairs. So one accessory that is not optional is a carry bag. When a quad chair weighs over 10 pounds and you have to carry it a significant distance, you will be thankful you chose the option that comes with a carry bag.
At the very least, look for a quad chair with a built in handle so when its folded down its easier to carry around. Some chairs can be quite awkward to carry due to their size and shape.
Other accessories are not as important when it comes to being heavy duty. Sure a quad chair with a footrest or umbrella is appealing, but its more important to have a chair that lasts year in year out in my opinion.
With all these options mentioned above and the buying guide here, buying heavy duty quad chairs is not as hard as it once was. Remember to treat your new chair with care and it will return the favor.