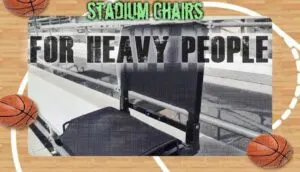 After looking at oversized stadium seats for heavy people its clear that there is not one seat that best suits all larger people. If you could combine the best features of each chair and roll them into one, then we would be looking at the best big mans stadium chair.
But sadly, like most products for us heavier folks, they seem to lack in one area or another. But this is not to say that there is no decent stadium chairs out there for the bigger people, its just that you may not get all the features you desire.
For example, you may find an extra wide option and you start cheering on your backside as it lands comfortably into position. But as the hours pass, you realize the padding on the seat just isn't there.
On the other hand, an extra thick padded stadium chair may provide the perfect amount of support and comfort so you don't bottom out on the bleacher, but lacks the back support you need.
Compare Oversized Stadium Seats
What A Big Man Needs To Look For
The first thing worth mentioning is that stadium chairs have weight capacities. Not all of them are disclosed, but there are many models out there with them listed. I've even come across weight ratings where the manufacturer has basically said this chair is not for people over 200 pounds.
Now come on, when the average weight of an American Man is 195 Lbs, this low weight limit of 200 pounds is surely closing the door to much of the market.
Fortunately, there are options listed below which have come to the party and provided stadium chairs with a weight capacity of 500 pounds. Now that's more like it.
Width Of Seat
With weight capacity and padding sorted, the other critical component to a stadium seat is how wide it is. Us larger people have compelling backsides, but sometimes the seat disagrees and doesn't want a bar of our rumps.
So we say screw you to those 15 inch wide seats, who needs them anyway. Real stadium goers want a seat with a minimum of 20 inches anyway. Which is ideally what you should be looking for.
This begs the question of arms or no arms. The ideal stadium chair would be extra wide with supporting arm rests. If you're going to be stationary for a few hours, your arms will get fatigued also. It's not just about the backside.
But arms on the chair mean you get less seat space between the arms. So arms could prove to be the deciding factor for some folks. However, many stadium seats these days have arms that can be retracted.
So if you're are a little on the plus side of life, you can benefit from the well padded seat and still sit comfortably with the arms folded back.
Then there's the extra features that make the stadium chair the best. Things like grips on the base of the seat to prevent sliding, safety hook to put under the bleacher so you don't tip backwards after a few too many beers, and of course, the drink holder so you can have that extra beer on call when needed.
500 Lbs Weight Capacity Bleacher Seat

The near perfect stadium bleacher chair for heavy people is the Grandstand by Flash Furniture. This company has quite a few types of products built with the larger person in mind, so the confidence I take from the structural components of this seat that reassure me of the 500 pound weight capacity.
The high weight rating coincides with the extra thick padding, which is finished in a fire retardant canvas cover. The padding is a generous 3 inches thick and the toughness and durability of the canvas make it a good choice for heavy duty use.
The padding provides a more firmer and supportive feel compared to a plush soft cushion. But for a bigger person, this is ideal. The soft plush cushions will just flatten out and become hard. So while not super soft, its rather comfortable.
Features
In terms of using the Grandstand on a bleacher chair, the base of the seat has rubber grips to prevent any unwanted sliding. There is also a bleacher hook to swing under the seat for added safety.
This of course will depend on the thickness of the bleacher as some are quite thick, over 6 inches where this hook wouldn't be able to swing under and secure. Which is why a rubber gripping base is important. To add the stability to the seat when the bleacher is too thick.
While everything seems great about this flash furniture stadium seat, it has one downfall. Its only 18 inches wide. While this is still 3 inches wider than your standard 15 inch wide seat, there are wider options below.
Its also worth noting that there are no arms on this seat, so you get the full 18 inches of padding to reverse your backside onto. Certainly a much more comfortable seat compared to a hard cold basketball bleacher.
Flash Furniture Grandstand 500 Lbs Stadium Seat
Extra Wide Stadium Seats With Arms (Folding)

One of the widest stadium seats which has a good amount of padding is by Driftsun. The main features for a big person on the Driftsun are that its quite well padded and it has a extra wide seat of 25 inches.
The beauty about this kind of stadium seat is that the arms can retract for greater seat width. If you can fit between the arms, that's all good. But if you can't, its a good idea to lower just one arm and see if you fit. This way you still have a armrest for added comfort.
This type of stadium seat is also a different design to the above Flash Furniture. It doesn't utilize a steel frame which supports the thick cushion. This design is meant to be the more portable option.
This is because it comes with straps so you can wear the seat on your back to and from the big game. The straps are also adjustable so the bigger person can get them on their back. If its still too tight, you can still have the seat hang over one shoulder instead of two.
Its quite an oversized stadium seat, so it does take up a fair amount of space on your back. Being 33 inches long when extended, you get a much deeper seat and taller backrest compared to the Flash Furniture.
For Bleachers Also
While this Driftsun can be used just about anywhere due to the multiple position reclining backrest, it also comes with a gripping base and straps for a safe and comfortable seating option on hard cold bleachers.
The Diftsun grips onto the bleacher and has a strap with a clip on it. This strap runs from under the base to go behind and under the bleacher and snap together at the front so the seat won't leave the bleacher until you're ready to go home.
While the Driftsun is well padded between 2 and 3 inches thick, I find the padding on the Flash Furniture better. Due to the firm and more supportive foam. But the trade off of course is that this seat is 7 inches wider and has the options for arms.
Driftsun Extra Wide Deluxe Reclining Stadium Seat
Oversized Padded Stadium Seats 400 Lbs Limit

Another good option for heavier folks is the Sports Beats stadium seat. It's similar to the Flash Furniture in design, having steel reinforcements rather than a carry on your back seat like the Driftsun.
The Sports Beats has a weight limit of 400 pounds and is also 18 inches wide. So in essence, its a more lightweight version of the Flash Furniture seat. While this one has a lower weight capacity, it boasts other features that are appealing.
The Features To Look Out For
Not all heavy people are going to need a 500 pound capacity seat, nor a 25 inch wide seat. Which is where this Sports Beat stadium seat comes into its own.
In terms of comfort, the Sports Beats seat is slightly thinner at 2.6 inches thick, but has a better backrest in my opinion. The backrest consists of 6mm thick panels of padding which offer a more contoured back support.
Weighing just 7 pounds and coming with a shoulder strap, makes the Sports Beats quite a portable option. While the Flash Furniture option listed above comes with a carry handle, I do like the idea of the shoulder strap on this stadium seat. It free up your hands to carry other items, whether it be your teams flag or a couple of beverages to set the mood.
The other noticeable differences are that this seat comes with a flip down mesh pocket and drink holder. I'm not sure I'm a fan of the position of the drink holder tho, right where your leg goes. However the mesh pocket is a great idea for keeping your tickets keys etc in. Also comes with a bleacher hook to keep the seat still.
SPORT BEATS Stadium Seat 400 Lbs Capacity
Extra Thick Waterproof Bleacher Seat

This stadium seat by Alpcour is the more deluxe version of the Driftsun seat. Similar in design with folding arms which retract to offer you a generous 25 inch seat. Should you have the arms up, you get a decent 19 inches between the arms. Not bad for a stadium seat.
As bleachers are typically 10 inches wide and measure 24″ from the front of your seat to the front of the seat behind you, you can't have a stadium seat with the ideal depth of 20″ like you would on a regular chair.
Which is why I find the Alpcours depth of 14 inch the sweet spot. Not too short, but not too long that its going to interfere with positioning the seat on the bleacher. Connecting this seat to a bleacher is done via the flip down bleacher hook.
Underneath the seat you get the grip from the reinforced PVC anti slip surface. Being made from durable PVC, the base is also waterproof along with the 600 denier polyester seat cover.
Deluxe Features
I call this the deluxe version because it comes with additional storage other seats don't offer. I really like the smart phone pocket that is incorporated into the left arm. If you're wearing pant with no pockets or jeans, then you need somewhere safe to keep your phone.
But in saying that, I would like the pocket to be deeper, either via a fold down pocket which is double the width of the arm. But there is 2 bigger pockets which are a hanging type pocket on the right arm.
So you could put your phone in one of these pockets and leave your keys in the phone pocket. There's also another larger pocket on the back of the backrest. Certainly enough pockets to use this seat for more than just watching your kids gymnastic tryouts at the local hall.
Alpcour 25" Wide Reclining Stadium Seat
Best Stadium Seat For Overweight People
So there you have it, four stadium seats for overweight people to obese people. From high weight capacities seats to extra wide oversized stadium seats, there's options for everyone.
Choosing one of another may seem difficult, but if you ask me it comes down to how much you weigh. I much prefer the likes of the Flash Furniture seat as it provides a durable and heavy duty frame to support larger people.
I wouldn't feel like the seats on the portable options like the Driftsun would be noticed as a 400 pound person. Would flatten out too much and become too thin. So the reinforcement of a frame with a padded canvas cushion is more appealing to me.
But with this comes a more narrow seat unfortunately. Ideally I would like to see Flash Furniture come up with a extra wide version of the Grandstand for us people with larger hips.