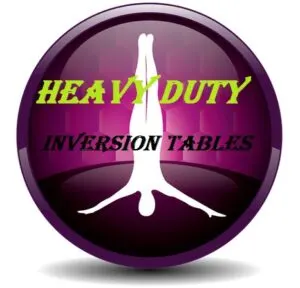 If you are a larger size person, these heavy duty Inversion Tables with high weight capacities up to 600 pounds are sure to be of some health benefit. While Inversion Tables are popular for lower back pain and massaging, as a heavy person an Inversion Table could prove to be more of a health benefit than pain relief.
Because of the upside down nature of using an Inversion table it's very important to check with your Doctor as to whether it's a good idea or not. With the highest weight rating Inversion table we could find is up to 600 lbs weight capacity, it's pretty clear that the big and tall people can now begin hanging upside down.
There are some health risks of using an Inversion Table, especially as a bigger person. Always, I repeat always have someone by your side on the first few times using the table. Just like you would have a spotter in the Gym. Again, consult your Doctor especially if you have high blood pressure, Glaucoma or other eye problems and heart disease. It's not worth causing further problems to your health.
However, there are some very relevant benefits to an overweight person using an Inversion table which we will now briefly touch on before taking a look at the best heavy duty Inversion Tables.
Compare The Heavy Duty Options
Reasons To Use An Inversion Table
Blood Circulation to the heart and brain is improved as blood can flow without the need for the heart to work as hard. It also washes out the pooled blood allowing for cleaner blood to circulate do to the reverse effect of gravity (Being upside down). This also improves heart function as the heart doesn't have to work as hard.

Varicose Veins can be prevented from forming due to the circulation of pooled blood which is a common cause for varicose veins.

As a big person, joints are something I feel pain in all the time. With the weight and gravity always pushing downwards the joints often get abused with pressure on the cartilages and the fluid between the joints can get squeezed out. So by reversing this effect, you can refresh and give the joints a well earned break.

I find it difficult getting to sleep carrying the extra pounds, no matter how I lay I'm always uncomfortable. Even with a quality big Mans mattress. An inversion table is known to assist in a better nights sleep due to better circulation and relaxed muscles.
What a stress relief!. It's a bit 'technical' but an Inversion Table can lower stress by shifting hormones and an almost instant reduction in muscle tension. Which both add to increased stress levels. A study found here indicates how muscle tension can be reduced in 10 seconds bu an average of 35%.
600 Pound Weight Capacity Inversion Table
Best For Big & Tall People
For a long time I though that finding an inversion table weight limit of 400 lbs was the goal. But the 400 pound capacity has nothing on this beast of an inversion table. Able to hold up to 600 pounds, the Pro Max by Health Mark is in a league of its own. Certainly the best option for someone that weighs 400 lbs.
No other inversion table comes close to this monster. Whats even more surprising is that with a high weight limit, you can still choose to either face upwards or downward positions, very impressive.
But not only is it very heavy duty, its extremely easy to use, nothing too complicated which can be a deterrent for first time users. It can be as simple as deciding from one of the 5 preset positions and laying back until the beast finished getting into position. This takes all the hassle out of having to balance the table.
While you're in this position with your face facing upwards, you can work the ab region and decompress your spine for greater blood flow which has been proven to help with back pain. Or you can flip over, rest your face on the padded head rest to let the full traction of gravity kick in via the 180 degree inversion. Really quite amazing since it can hold such a large amount of weight (600 lbs).
One Of The Best Inversion Tables For The Tall Person
But the fun doesn't stop there. If you're big and tall, the Pro Max is in my opinion, hands down the best option. With 25 varying height settings, even the tallest of people, up to 6'11" can use the Pro Max. Do note that on the amazon page, it states 6'6″, but on the Health Mark Inc site it says 6'11" is the maximum height.
Even short people around 5 foot have found success in this inversion table. However, do note, the taller you are, the higher your ceilings need to be. Someone 6'8″ would struggle to fit under a 7 foot ceiling for example.
More Reasons To Love The Pro Max
Adjustable height headrest can be moved up or down and even taken off to suit your needs.
Foam padded rollers for proving knee support.
Both front and rear brackets for the ankles to sit firmly secured in.
The foot plate is made with a non skid material to prevent you in position.
Heavy duty steel finished in a powder coated black .
Health Mark Pro Max Inversion Therapy Table
2nd Highest Weight Capacity Inversion Table We Found
Ironman IFT 4000 Infrared Therapy Inversion Table 350 Lbs


The Ironman 4000 inversion table is the only table I could find with a weight capacity of 350 lbs. Fortunately it turned out to be a winner as well. What I liked most about this model is the Infrared Therapy embedded into the back rest.
While it cost more than the model without infrared therapy, the added benefits are more then worth it for me. This extra treatment also assists in better blood circulation which can assist in a speedier recovery for injuries, helps to reduce stress levels and expediting the healing of strains and even sprains. The Infrared feature is also good for people with Fibromyalgia as the heat is great on the hips.
Surprisingly this table has a full 180% turn, which is remarkable considering it has a high weight capacity of 350 Lbs. Now if you are 350 Lbs on the dot, I would be very careful as this is the weight limit. Which more often then not is a guideline.
In saying this, the Ironman 4000 is one heavy duty inversion table. The construction of this table is phenomenal. The best on the market in my opinion and it's doesn't take a scientist to put this thing together either.
Ironman IFT 4000 Infrared Therapy Inversion Table - 350 Lbs
Best Inversion Table For Big And Tall People
The

Innova ITM4800

300 Pound Capacity Heat & Massage

The Innova ITM 4800 table is a great choice for big and tall people due to its 300 lbs weight capacity and a maximum user height of 6″6. Whats the true stand out point for me when I look at the Innova inversion table is how ergonomically sound it is.
Being comfortable is one thing, but being comfortable with a gentle massage at the same time is something else.
The bench is very well padded and even has a well padded and fully adjustable headrest. So as long as you are below 6 foot 6 inches you can shift where you need the head rest. It doesn't stop with the pillow either, the lumbar support is amazing.
This is something the infrared Ironman is sadly missing. With the lumbar support cushion you can line it up perfectly with the area of your back that is tense, sore, in pain etc. Once you have it in position you can also use the heat or vibration massage feature to really get to work on those tight tough muscles.
A truly wonderful addition to this inversion bench and the buttons to control these massage features is right near where your hands are located for easy access. This is powered by mains, while the cord is rather long you should try to stay close to the power source for safety reasons.
The ankle holding system is another ergonomically design meant to add to a pain free and enduring experience. I found them to be very well padded with sufficient enough padding that shoes are not even required.
This will obviously depend on your feet condition and tolerance to skin contact. Comfort out of the way, the construction is on par with the Ironman being heavy duty steel tubing with the capacity to handle up to 300 lbs.
There are 4 different lock positions when you get on board. 180, 160, 140 and 120 degrees. When in the 180 degree position you are not entirely up and down, a fraction off. But this is due to safety of the pin and shouldn't be removed to get a full 180 degree.
Innova 300 Lbs Heat and Massage Inversion Therapy Table
Health Gear Heavy Duty 300 Lbs Inversion Table

The Health Gear ITM5500 is yet another quality heat and massage option. The back padding on this model is rather thick and really assists in the inversion process.
The heated massage cushion runs vertical up you back and stops at the neck. The heat feature is a little less intense compared to the other two, but the vibration effect hits just the right spots. Unfortunately there is no real head rest, so it can be a bit firm on the back of your head. A pillow or towel may need to be used as a head rest.
Like the Innova model, this too stops just short of 180 degrees unless you remove the bar which could result in safety issues. Which is not recommended as you still get great benefits from the allocated slots.
I do love how the ankle clamps are well padded and oversized with a softer foot rest bar compared to that of the Ironman 4000. Overall, the Health Gear is a great heavy duty Inversion table with a high weight capacity of 300 lbs.
It's missing just a couple little extra that the other two tables boast, but shines in regards to storage and transport. Unfortunately the instructions for putting this thing together are not the best. Something Health Gear could improve on and possibly add a decent head rest. Otherwise its not a bad inversion table for overweight people.
Health Gear ITM5500 Advanced Technology Inversion Table
Can An Inversion Table Hurt You
Health and exercise are important to our everyday lives, and making sure we do it is necessary to keep healthy. An inversion table is there to make life easier, but it does come with some dangers, especially as an obese person. This is true for almost any type of health and improvement, so what are the dangers with an inversion table.
Before even attempting to using an inversion table there are a few pre-exsisting conditions that if you have, you should avoid using an inversion table. Always consult your Doctor before attempting to use an inversion table. If you have high blood pressure its especially recommended to consult a specialist first. Putting extra stress on your circulatory system is not recommended.
The other conditions that you should avoid using an inversion table with are glaucoma, retinal detachment, inner ear problems, heart conditions, hernia, pregnant, a fracture, and osteoporosis. Which is quite a few things to be careful of before using an inversion table, which is why it's good to see a doctor first, even if you're not overweight.
One of the biggest dangers of an inversion table, is actually the person using it. As people we have a tendency to overdo things, and go to far to the point we injure ourselves. Which is why you need to be careful, and not to go too inverted, and use it for too long. It can cause also you to pull a muscle which can make it quite difficult to get off the macine.
Undecided On Buying An Inversion Table?
Check out this video below for some inspiration to getting your own inversion table as a larger person.
Save