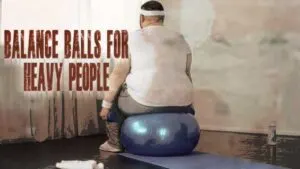 Balance balls for obese people are a great low impact way to exercise as many of the traditional exercise methods can be too difficult. However many balance balls are designed to hold heavy people.
Like most heavy duty exercise equipment, balance balls too come with a weight capacity. Not everyone realizes this and sadly they can end up with the ball bursting. Which is never a pleasant feeling, especially if it bursts in front of other people.
So it's extremely important if you weigh more than 250 pounds to look into the following big person balance balls. With weight capacities up to 2200 pounds, its safe to say us heavy people have been looked after.
Choosing A Balance Ball When You Are Overweight
Sometimes balance balls don't clearly state their weight capacity, which can cause you greater confusion. If this is the case, I would simply look for another option. This is the case for many of the cheaper balls available that you often find at your local big box stores.
Besides the weight capacity, the other key factor you need to consider when buying a balance ball is whether or not it is burst resistant. With heavier pressure being applied to the ball, its essential the ball doesn't burst and explode on you.
Not only is this embarrassing, but it's also quite dangerous. So to avoid this bursting from happening, manufacturers have developed an anti burst feature. This will allow the ball to leak air rather than burst. This also means you can patch up the hole saving you from spending extra money on another ball. So it's crucial that the ball you buy has a anti burst function as well as an adequate load bearing capacity.
Your Height Is Relevant
Many people that are big are tall as well, which is why some many brands market towards the big and tall people. Being tall or short as a plus size person will affect which balance ball you go with. Fortunately many brands offer the same ball in varying sizes to cater to the tall and short people.
Balance balls can range from 45cm to 75 cm. 45 cm being for shorter people and the 75cm balls suitable for taller people above 6 foot. For the most part, a 65cm ball will suit the majority of people. But if you're unsure what size to buy, it's considered best to get a slightly bigger ball than you think you need. A ball too small for you won't offer you many benefits.
Best Balance Ball For An Obese Person

Depending on the level of obesity can affect how freely you can move. Which is why I think the best balance ball for an obese person is this one by RGGD & RGGL. Funny name for a company, but with many years in the industry they sure know how to make a good balance ball.
Anyways, the reason this ball is so good for obese people is not the fact it has a 2200 pound weight capacity, but because it comes with a detachable stabilizer ring.
If you haven't worked out on a balance ball before, or in a long time, you may find it more difficult than you've been led to believe. Especially with a lot of extra weight in your mid section. This is where the stabilizer plays a crucial role.
Designed For The Beginner
This stabilizer ring is designed to help beginners and heavier people to maintain balance when using the ball. It basically stops the ball from rolling around your living room when working out with resistance bands and the like.
There are also 3 resistance bands included in this kit, again aimed at the beginner to help get you on your way. This is a easy way for an overweight person to get some upper body workouts done while sitting down on a soft ball.
The stabilizer helps with any stationary exercises you wish to do, but it also doubles up as a balance ball chair. So you can use this ball as an office chair for example. But do note they recommend it only for people under 5'10". People over 6 foot will need to look into extra tall balance ball chairs.
Heavy Duty Workouts
While stationary workouts are great in the beginning, if you havn't exercised in a long time, sooner or later you will want to use the RGGD & RGGL exercise ball to its full potential. To do this you simply need to remove the detachable stabilizer.
Now the fun begins and with a 2200 pound capacity you can feel confident you are not going to burst this ball. In the event that the ball does take a hit, it's designed with the anti-burst technology.
This is reassuring but even more so is the 2mm thick non toxic PVC. While 2mm may not sound like much, it's quite thick in comparison to many of the cheap balls on the market. Most brands won't even specify a thickness which is not to reassuring. This exercise ball would need to take a serious beating to obtain a puncture.
Ideal For Most Heavy People
Overall it's hard to fault this balance ball. The included stabilizer and resistance bands helps the larger people stay more stable and maintain greater confidence when being proactive with their life. The reassurance of the high weight capacity and the 2mm thick multiple layer PVC simply seals the deal for me.
The only downside to this ball would be that it lacks size options as far as I can tell. It's available in the 65cm model which is ideal for people under 6 foot tall. But very short or very tall people may prefer to look into one of the 75cm balls below. While it does lack size options, it offers plenty of interesting colors. Plus it also comes with a fast action foot pump and workout routine so you can come and go with the ball as you please.
RGGD&RGGL Balance Ball With Stability Ring
The Balance Ball For Heavy People – 2000 Lbs Rated

This DynaPro exercise ball is a professional-grade balance ball suitable for heavy and large people. Like most professional exercise balls the DynaPro can be used in a variety of ways from balancing for yoga, strength training to gym workouts, and desk chairs.
Despite its weight and size, the DynaPro can hold up to an incredible 2,000 pounds due to the thick materials used in construction. It also comes with a hand pump to inflate the ball quickly and conveniently which I think is an absolute must when considering which ball to buy.
The Available Sizes
In terms of sizing, there are four options: 45 cm, 55 cm, 65 cm, and 75 cm. Each size can provide optimal use depending on your desired activity and as mentioned earlier, your height. It's important to seriously consider the size of the ball in comparison to your height.
The balance ball is also covered with a non-slip, ribbed texture so that your skin contact will stay put without slipping. Which is meant to have amazing grip even when you're sweating and being the size we are, us heavier people sweat a lot.
Of course, if there are excessive loads, the ball will deflate slowly. This is once you exceed 2000 pounds, which is not very likely. But its very good to know the ball will deflate rather than 'pop' and BAM you end up on the floor in pain. It also has a puncture resistance of 1,877 micrometers which is slightly less than that of the above RGGD & RGGL at 2mm.
Inflating & Deflating
When inflating for the first time it does take around 24 hours to reach full size, this allows the PVC to stretch, kind of like an air mattress. Also, be sure you get the right size as there is a slight difference between the 55 cm ball and the 65 cm ball. But, if you wait 24 hours for either ball, it will reach its full manufactured size.
The DynaPro isn't known to lose air a great deal of air, even with active and consistent use. Which is good but just remember. it's an inflated item, air loss over time is inevitable. Furthermore, it is made of a thick PVC so it can resist puncturing better compared to a thinner wall balance ball.
If you wish to deflate the ball, it also comes a plastic wedge so that you can deflate the ball.
Anything You Should Be Concerned About
One thing to note is that you may have to add extra air every other week. But as mentioned earlier, this is quite normal for an device that is inflated. It can also be quite difficult to use the hand pump, at first, as it has a thick pump tip that doesn't appear to go far enough into the air hole.
In any case if you lose one, the ball does come with extra air plugs, so that's reassuring. Furthermore, there is an obvious scent with the ball, at least for the first week until it wears off. Anyone who has bought anything PVC will understand this smell and that it does go away soon enough. Nonetheless, it is one of those types of products that is known to last for months without needing to re-inflate, but weekly air check ups is what I would recommend.
DynaPro Exercise Ball 2000 Lbs Rated
600 Lbs Capacity Yoga Ball For Tall People

The Teawan Anti-Burst Yoga Ball is 75 cm and holds up to 600 lbs. While having a decent weight capacity, the drawing factor is the 75cm diameter. The right size for taller folks over 6 foot. While this ball also comes in an 85cm diameter, I haven't been able to locate one as of yet.
For the price of this ball, I'm quite surprised that the package does come with a hand pump to inflate when needed. I feel this is a nice bonus to include for someone wanting to try out balance balls for the first time, but are not willing to invest too much just yet. The ball comes in a few colors Gray, Purple, and Orange which can be found on amazon here.
The Quality Level
It also has an anti-slip surface so that you can use it to improve stability, balance, and flexibility but I feel is less quality compared to the 2 balance balls listed above. The construction is made of a soft vinyl rubber, which molds to your body. While I don't find it as thick as the other balls, it's still quite durable. Especially considering the price tag.

Possible Flaws
One thing to note is that, even after a week of inflation, there may still be visible creases on the ball. At times, a fully inflated balance ball only reaches 62 cm instead of the advertised 75 cm – this may be due to an inconsistency in the manufacturing process or it could be due to the rubber not stretching to its full capabilities yet. So make sure you allow enough time for the rubber to stretch before freaking out.
Comparing pumps, I find that the pump isn't of the best quality, it's quite difficult to get the ball fully inflated with the hand pump. However, its a pump and it does eventually get you over the line.
But because this balance ball is bulky, storage may be an issue if you don't want to deflate and inflate every session with the pump. You may be surprised just how much space a 75cm ball actually takes up. So investing in a cheap foot pump may be the way to fix this issue.

On the other hand, the large size of the ball can come in handy for unexpected guests. This is because it can be used for additional seating in living areas as it is quite sturdy and big enough to use as a chair.
Worth Buying?
For the sake of trying out a balance ball without over committing, I think this ball is just right. The vinyl rubber is thick enough to withstand small, accidental punctures from sharp objects like those pesky Lego blocks that always manage to find their way under your feet. Although, it is recommended you keep the ball away from any potentially-damaging sharp objects.
For a entry level ball, you can still use it for most activities from yoga to stretching to a work chair to fitness exercises such as push-ups or ab crunches. The ball can withstand reasonable bouncing and heavy people up 600 lbs. But I wouldn't risk it if you were 400-600 pounds. Simply because of the amount of pressure extra weight can have. I would look into one of the more heavy duty balance balls above.
75cm 600 Lbs Balance Ball
Exercise Ball For Overweight People

If you have come this far thinking that all the other balls are way above your weight, then this 400 pound capacity ball may be a suitable option. While there's absolutely nothing wrong with a 300 pound person buying a 2000 pound rated ball, its good to have options.

Ranging from 45 cm to 85 cm, the Forbidden Road balance ball delivers great value for your buck. The ball was made to deliver sustained support for a variety of exercises from Pilates to Cross-Fit to stretching and yoga. It can also be used as a desk chair and to improve the flexibility of your lower back, thighs, and abdomen.
Within the package, you will receive the balance ball, a hand pump, one air valve remover tool, and a one-year warranty. The ball was designed to be slip-resistant, and has an anti-burst thick PVC material.Which again, is essential for any overweight person wanting to use a balance ball.

In addition, it is both non-toxic and latex free so it shouldn't irritate people with allergies. While the ball is sturdy enough to support up to 400 pounds, I have heard a few complaints in the past about this specific model.
There might be an inconsistency in manufacturing or a 'bad batch' so to speak as some balls have been known to explode upon impact from heavy force. Since this balance ball can only accommodate up to 400 pounds, it's probably best not to bounce on it.

Furthermore, the pump has been known to break or be very difficult to maneuver in terms up pumping air into the balance ball. In terms of durability, it is not as sturdy as other balance balls.
In fact, you should keep it far away from any sharp objects and do know that it may also leak after extended use, causing it to shrink slowly. But at the same time, it's not a high end balance ball. For the price you pay, you get a pretty good balance ball. So, you might be able to buy several in case one goes bust.

Forbidden Road Exercise Yoga Ball
Can't Decide?
While there are so many balance balls on the market, I have shown you just four of them here that are suitable for heavy and obese people. Fortunately this type of exercise equipment is relatively affordable compared to bikes and treadmills.
So if you do happen to get a lemon, its not the end of the world. But in saying that, there are 2 obvious standouts from this list. If I have to recommend one for one size fits all, in this case I would certainly recommend the RGGD & RGGL. With the high quality and very thick 2mm PVC material its a ball that is built to withstand some torture. Combined with the 2200 pound weight capacity, most heavy people will find comfort.
While the lessor 2 weight capacity balls do seem to be less quality, they are my pick of the bunch for best value for your buck. Considering the price of a balance ball, I would still sacrifice extra money to get a high quality and durable balance ball.